Growing Community and Partnerships with New Shared Office Space in West Kelowna
Since Big Bear Software's inception, we've been committed to the community. This commitment has allowed us to comprehend the needs in the areas in which we operate, which has, in turn, enabled us to solve relevant business problems with the use of technology. 
This community-minded focus has played a big part in facilitating Big Bear's rapid growth in the past two years. As our presence has expanded in Penticton, Kelowna, and Calgary, our team has been mindful of bridging the gap between staff who are spread out in a broad geographical region. 
Our efforts to build community externally in our local areas as well as internally, in our organization, are fundamental reasons why we are establishing a shared professional office space located centrally at 1979 Old Okanagan Highway in Westbank. However, there are additional benefits that we hope will bring value, as well. 
Promoting collaboration and hard work
An important distinction to make is the difference between a co-working space and a shared office space. 
Co-working spaces allow people to rent individual desks in a shared workspace that often includes WiFi and other amenities. These spaces can be a great alternative to working from home, especially for freelancers, contractors, and remote employees. However, although people collaborate and network, they are mainly working independently and at different levels of intensity. People often come and go, which can make fostering a sense of community a challenge. 
Shared office spaces, on the other hand, allow businesses to rent sections of space, typically organized by tables or groups of desks. This model allows for flexibility for business owners who have employees that work remotely from time to time or who see their staff numbers fluctuate as they grow. Renting to small business owners and their small teams promotes an atmosphere of hard-work while still fostering an environment of diversity and collaboration.
Penticton had a strong presence in the Canada-wide Smart Cities Challenge, a county-wide competition to solve local city problems using technology, because of the ideas generated from a shared professional workspace. The Big Bear team collaborated with people in marketing, land development, branding, sculpting, engineering, public relations, and software development to generate solutions that would have never been possible without that environment. In short, professional collaborative workspaces promote community organically while also promoting hard work.
Bridging the south and central Okanagan
Although Big Bear Software has worked with clients from all over North America, it has been known in the Okanagan as the tech company from Penticton. As we continue to grow, this new office allows us to establish a presence further north and opens new opportunities for partnership. The building is a bright, open space with panoramic views located 10 minutes from downtown Kelowna. It provides a centrally located hub to host meetings and meet with clients, thereby supporting our goal of serving more of the Okanagan. 
Additionally, the Okanagan continues to grow. West Kelowna now has a population of 45,000 people with over 1500 remote workers. Yet until now, there has been no collaborative work environment or shared event and meeting space. This space is more than just a shared workplace. It's a location for people to come together and host events of their own beyond just technology so they can better serve their audiences in ways that matter. 
And as the Kelowna core continues to densify, a spacious office space minutes from downtown with free, abundant parking will provide a viable alternative to people working north of the bridge as well. 
Furthermore, many large companies have numerous west Kelowna employees and clients who are currently traveling to Kelowna daily to conduct business and host meetings. This new space has two boardrooms designated as shared meeting spots that can be booked in advance an unlimited number of times per month.
Growing community with ripple effects into Calgary
Our organization of community endeavors, like the Penticton Tech Brew, the Penticton Smart Cities Challenge, and the resurgence of Shatford Centre has helped us get the ball rolling on the growing community in the Okanagan. Working off of these connections and this momentum makes creating a shared workspace in the Okanagan natural. But these combined efforts also illustrate to our Calgary market that our values lie beyond profits as well. And as employees continue to value well-being more and more, not just for themselves, but for the world in which they live in, becoming more mindful of bettering our communities helps attract like-minded team members as well. 
Honoring our late landlord 
One of the most critical aspects of creating this new space lies in honoring our late landlord, Noll Derriksan, who, before his passing, chose us to occupy this space. 
Noll Derriksan was an extremely innovative thinker, artist, and former Grand Chief of the Westbank First Nation who worked tirelessly to improve indigenous peoples' rights in the Okanagan and beyond. It is our goal to use the space for more than building software, but to use it to help create community, to bring people together to do good for the benefit of us all. 
If you'd like to check out the space, we'd love to see you! We're hosting an Open House, Friday, March 6th.
And if you're interested in learning more about renting space, feel free to contact us anytime.
Big Bear Software and Lighthouse Labs: Leveraging Partnerships to Thrive
Headquartered in West Kelowna, B.C., with offices in Penticton, Calgary, and team members spanning across Western Canada, Big Bear Software has been developing custom software for 17 years. We've created everything from one-page websites to enterprise applications revolutionizing entire industries. We've assisted companies in Medical, Logistics, Defense, IoT, Manufacturing, and Smart Cities.
Building tech that matters
Since our inception, we've seen more than our fair share of companies using software for software's sake and projects being developed for the wrong reasons.
It's because of this, we've made it our mission to help our clients reach their potential by building impactful technology that provides value by solving real problems. This mindset is what has formed the trust and long-term relationships that have enabled our company to quadruple in the last two years and work with large organizations such as Innovate Calgary, Kal Tire, and QHR Technologies.
You're only as good as your people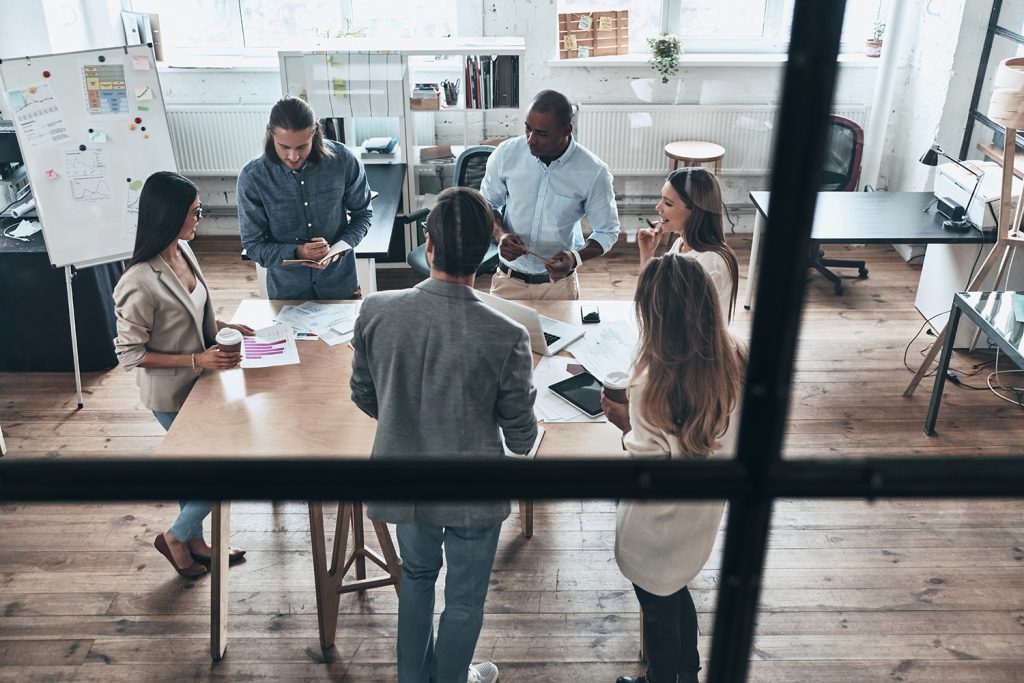 Company mission aside, to build a great company, you need the right people. Marshall Goldsmith summed it up when he stated:
"The best leaders understand that long-term results are created by all of the great people doing the work — not just the one person who has the privilege of being on the top."
From the moment we started hiring from Lighthouse Labs, it became clear that their graduates aligned with our company mission, but that additionally, we could support their goals as well.
We've found the right people at Lighthouse Labs
Our first hire came straight from high-school and proved to be a keen, open-minded junior developer. He worked successfully on several projects before moving to a neighbouring city where he continues to be employed full-time at another company.
The next developer to join our team was a former manager at a local bar. He loved programming in his spare time but knew he needed more practical experience before ultimately shifting industries. He had heard about the successes of others in the Lighthouse Labs Web Development Bootcamp, so he decided to complete the program. From there, he was hired and has grown his skills exponentially, working on a diverse range of applications, websites, and more. He has since also grown his skills to a point where he has been able to further pursue his passion at a company that aligns with his interests.
Sometimes as a company, you hire people to help them reach the next level which may be outside your organization. Both of these developers continue to find fulfilment and provide value in our communities. And that is something we are very proud of.
Our latest Calgary developer, formerly a structural engineer in oil and gas, became deflated with the job market after a 2015 layoff. After completing an MSc. in Biomedical Engineering, he knew he needed to shift his focus once again. With only modest time and financial commitment, Lighthouse Labs seemed like the ideal way for him to break into tech. After talking to another engineer-turned-developer, he enrolled himself in the Web Development Bootcamp. So far, he has been exposed to the entire project lifecycle of a large application build. And, with his combined background in biomedical engineering, coupled with his coding skills, he will continue to strengthen our team as we expand further into the Life Sciences space.
So, how have we developed such a successful partnership with Lighthouse Labs?
Since our first hire, we've reflected on why this has become a key partnership. We've boiled it down to a few key factors.
1. Our shared value of helping foster people with the right mindset
Anyone can learn to code. But it's no coincidence that certain people will succeed more than others long-term. Those with qualities like a growth mindset, a passion for what they do, who embrace failure and have the grit to persist stand a much stronger chance at succeeding, especially in rapidly changing modern job landscape. Lighthouse Labs grads came to us equipped with these qualities. We've since helped each individual grow their skills while also relying on their attitudes of autonomy to self-learn as well.
2. The shared understanding that diversity is a huge benefit
Every Lighthouse Lab graduate has a different background, set of experiences, and skill sets. Our team is made up of a diverse array of people as well. Females hold 60 % of our workforce and a substantial portion of our leadership roles. We know that different people mean different perspectives, which results in greater creativity, innovation, faster problem-solving, better-decision making, and so much more.
3. Our shared value of being community-minded
One of the things we appreciate most about Lighthouse Labs is its connection to its community. They know how much it matters to give back, not only from a philanthropic standpoint, but because it helps them understand the real needs in the areas in which they operate. Big Bear understands this as well. Since our inception, we've been involved in many community endeavours. We've revived a community arts hub, lead the Penticton Smart Cities Challenge, created a thriving tech meetup, and are now helping build community with our new shared professional space in West Kelowna.
4. Our shared mission to solve relevant problems
Lighthouse Labs's involvement in the community has not only led them to understand the problems local industries face but has also provided them with the information they've needed to train students with the skills to solve these problems. In addition to proven learning techniques like a flipped education model, their Bootcamp program works because it's relevant, effective, and enjoyable.
As such, Big Bear continues to grow specifically in the Calgary Life Sciences and IoT space because we know that is where the need is. As we shift into these areas, we see a subsequent demand in need for front-end developers, specifically with Angular and React experience. Change is occurring quickly, and as Alberta finds new opportunities to thrive beyond oil and gas in industries like technology, it will be essential that they continue to re-skill their workforce to remain competitive. With organizations like Lighthouse Labs that can train people efficiently with relevant skills, we have no doubt we'll be able to rely on them to produce graduates who have the right knowledge to move forward in industries like this that matter.
The bottom line?
It's all about having the right mindset and staying connected to grow. And by finding ways to empower people in the roles that they are passionate about, we can make a real impact in our communities and beyond. This is what we, and they, set out to do, which is why our successes continue to grow and why together, we will continue to develop the talent to help the tech industry thrive.
Calgary, Welcome Big Bear Software. If You Haven't Heard of Us, You Will!
Big Bear Software is an entrepreneurial custom software and web development company headquartered in the Okanagan, priding itself on building community, diversity, competence, innovation, and fun. Although founded by Keith MacIntyre over 16 years ago, the current growth trajectory started just over three years ago as people began joining the organization, and today we are a team of over 20 strong. During this growth period, Big Bear Software experienced over 255% revenue growth and is on track to meet or exceed this in 2020. With experience in healthcare, logistics, manufacturing, Smart Cities, IoT, and defense, Big Bear Software has a proven track record, helping companies leverage technology successfully.
Big Bear has grown its presence in Calgary this year and has formalized office space with a plan to stay and expand. This decision stems from a major development project with the Integrated Management Platform to Accelerate Clinical Trials (IMPACT) program. IMPACT is a collaborative effort with the University of Calgary and Innovate Calgary that supports new medical ventures as they maneuver the highly regulated clinical trial process.
The story of my connection with Big Bear is serendipitous, in the spirit of connecting with an old colleague. Mid-October, of this year, I had breakfast with Keith, who had just flown in from Kelowna to visit the team that was starting to form. As breakfast was finishing up, he asked if I would be interested in meeting them (I was). My work started that day.
Big Bear's active focus on healthcare software and innovation was very compelling and of personal interest to me. To get personal for a bit, my beautiful wife, who, after a 10-year career in information technology in oil and gas, went back to medical school and recently graduated as a family doctor. Through her in-patient and out-patient work, she regularly shares the possibilities she sees for improvements, and we discuss potential opportunities to make things better. Of course, developing new integrations or implementing some form of machine learning often comes up.
I've had a satisfying and varied 25+ year career in several industries, including oil and gas, mining, airline, telecommunications, and defense. While I was typically working in information technology consulting, leading software development, or implementation projects, over the last ten years, I started to move into senior leadership, operational excellence, management systems, program development, and business development. But this fall, I decided I missed the technical element of my career, the opportunity to build something. I also wanted the chance to assist my wife, so I made the decision to brush up and began reacquainting myself with software development, machine learning, big data, python and R, cloud services, Kubernetes, Kafka, and so on.
That morning, as Keith and I were finishing up breakfast, I think we both realized there was an opportunity to collaborate. With Big Bear and its successful track record delivering software and his presence in the healthcare space, Keith was offering me a foray into it. I took him up on the offer, and by the end of the day, I agreed to be the 2nd Big Bear team member in Calgary, join the IMPACT team, and become Big Bear's CTO.
As Big Bear's CTO and Calgary lead, I already know we have work to do as we evolve into a larger team across two regions, and I welcome the challenge. My intent in Calgary over the next quarter is to get out there and identify and connect to the entrepreneurial, technical projects that are in line with our skills and where we can add value with a strong emphasis on health care and medical devices. So reach out! I'd love to connect and hear what you're doing.
Chris Coupal
Big Bear Software: The 16 Year Overnight Success
Three years ago I had zero revenue. Zero employees. Zero contractors. Today, I employ twenty-one full time and contract staff and current and past clients include Kal Tire (booking system, Canada-wide), QHR Technologies, C4i Consultants (MILSIM, EDMSIM CDC), and most recently Innovate Calgary (IMPACT, TRACR FDA, HC, EU). Because I'm never someone who likes to get too comfortable, with this part of my business running smoothly, what's next?
Big Bear is headquartered in Penticton, BC with offices throughout Western Canada including Calgary, Kelowna, and Penticton. We've been providing custom software solutions for over a decade; from web development and design to enterprise applications revolutionizing entire industries, we attract our clients based on our commitment to quality, efficiency, and great software. Our experience spans many industries including Medical, Logistics, Defense, IoT, Manufacturing and Smart Cities. I started Big Bear Software sixteen years ago with no money, no ideas, and nothing but willpower and desire.  I almost went bankrupt three times, the first time five months in with a mortgage and a newborn in the house. 
What's next indeed… but first I need to back-up, in the summer of 2016, I got a little lazy.  I had secured a nice contract with a defence company, was working six hours a day, had one full-time contractor, and was making decent money.  I decided I would enjoy the summer and then work on fulfilling my lifelong vision for my company later. Almost immediately after deciding that, my one and only client hit financial difficulties and terminated all contracts.  At the time I was owed $50,000 and wasn't sure if I would ever get it. This woke me up in a hurry. However; counter-intuitively, I didn't jump right back into trying to attract clients and do what I had always done. I spent most of the summer running, riding my bike and thinking about what I wanted to do next.  I'm a talented coder; I've written software that competed against billion-dollar US Army software and won on performance and usability. I wrote touch screen voting software that was one of the top systems of its time and was the first person to put a wifi card into a voting machine- I kind of regret that.
I can sell. I could do anything. I realized that I could likely run any type of business. Did I actually want to run a software company?  The answer was yes, but not the way I had done it in the past. I realized that I no longer wanted to write software myself at all. I drew a line in the sand seven years in the future, coinciding with when my youngest son would be graduating high school. I began to visualize what I wanted my company to be, who I wanted to be, and what the community I lived in would look like.  It all came together one day in my first float tank session (talk about floating). I had my painted picture, my vision for the future. I saw myself standing in front of my team of 20 to 25 people, my sons at my side, describing the day I decided what I wanted the company to be. 
Now, a little over three years later, we are not only on track but on pace to exceed my expectations.  So how did I do it? How did I go from a little known software company in Penticton to a sought after tech leader who has helped grow the Okanagan tech community, and is being asked for advice on how to expand it in Calgary?  Honestly, I have no clue (kidding, I know exactly how we got here). 
I joined the Junior Chamber International (JCI) eight years ago, where I learned the value of volunteering. I then ran for school trustee five years ago. It took five weeks to create a marketing plan, get feedback from friends about myself, and learn how to campaign. I had already been involved with AO, and was decently well-known in the community but had retreated. I had to start from scratch. On the advice of my marketing consultant, I started writing a column for the Penticton Western called TechBrew, named after a monthly meetup I had created where members could discuss tech over a beer. I had no idea the reach this event would have. People from all over with thoughts of moving here were watching what the Okanagan tech community was like. I expected we'd get maybe five to ten people per month, now there are over 400 members. At its peak, 40 to 50 people per month came out in Penticton, with seven to ten people being new to the community. I began building up my reputation again. I had to take on projects that required me to code for a while but was focused on attracting talent more than I was on sales. I looked for any event I could go to that would benefit both the community and my business. I stopped volunteering for things that didn't also serve my company (it's ok to be selfish and selfless at the same time). I genuinely enjoy community involvement, it's built a high degree of trust with my team and our clients. I have made many connections, gained credibility, and have obtained ideas and have shared many thoughts. It has all resulted in paying dividends, not just for my company but for the community. I'm currently the President of the Okanagan School of the Arts, trying to revitalize the Shatford Centre, a 98 year old high school, as a community hub for the arts, with plans to build an Innovation Castle, that's a separate blog article.
In March of this year, I became the Canada-wide exclusive distributor of MedActiv medication cooler bags, a unique and amazing suite of products that have been sold for almost a decade in Australia and Europe to help those with temperature-sensitive medications live their best lives.
This winter we are launching our first product through Big Bear Innovations, a safety device for children on ski hills to help find lost children and injured skiers faster. 
My simple advice to those of you thinking about starting (or growing) your business:
Have meaningful conversations with people, listen more than you talk

Get out of your comfort zone any way you possibly can; challenge yourself daily

Bad decisions are almost always better than no decision, you don't have to have the answer, just start

Find support groups, coaching, talk to people, don't be afraid to discuss your idea(s). If the idea is easy enough to be stolen, it's probably not worth doing. 
I don't have all the answers; I still struggle with my fears. I can sense myself holding back a little with my new companies…but I'll get past it.
To paraphrase Pablos Holman, who I saw speak in Seattle recently at a Singularity University event: Let's stop focusing on creating the next great app and making the most money.  Let's do things that have purpose. Instead of focusing on becoming the next billionaire, what if we focused on becoming the next company that impacted a billion lives in a positive way? I can't say why I feel like we can change the world exactly, but I think a large part of it has been seeing the impact we're having on the local community, and I truly believe this can be replicated on a global scale.